Introducing The Quest for Collective Intelligence
We are very excited to share our new fully-immersive team development experience: The Quest for Collective Intelligence
A changing world needs a fresh approach to Learning & Development
The past two years have been incredibly challenging for leaders and their teams as organisations strive for innovation and growth through an ongoing global pandemic, worldwide political instability, environmental uncertainty, and fear of recession.
As the pace of global change continues to accelerate, the world of work is becoming increasingly complex and unpredictable. Effective communication and collaboration have become harder than ever. We have been hearing across the board from organisations that rebuilding connectivity in their teams post-Covid is one of their most pressing challenges right now. And that their traditional classroom-based professional development, e-learning and team offsites simply aren't delivering enough meaningful impact.
Introducing The Quest for Collective Intelligence
In response to this we have created The Quest for Collective Intelligence as a way for teams to build connectivity, leadership skills and teamwork in a completely new way.
Bringing together the very best of immersive experiences, escape rooms, virtual reality technology and leadership psychology, The Quest for Collective Intelligence has been designed to turbocharge teamwork by getting your people away from their desks and working collaboratively to tackle surprising, fun challenges in new and unexpected ways.
The Quest for Collective Intelligence has been created for:
Teams that want to significantly improve the way they communicate and collaborate
Organisations that are looking to break down silos across functions
Leaders who want to leverage their strengths & overcome reactive tendencies
People returning to the office that want a fun and impactful way to reconnect with each other
What to expect
The Quest for Collective Intelligence is a one-day fully immersive event to help teams and leaders foster deeper connection, mutual understanding and trust, giving them the tools to go back to the office to tackle even their most challenging of problems together as a collective whole.
We have collaborated with some of the world's leading thinkers and builders in immersive theatre, escape rooms, gaming and learning and development to create The Quest for Collective Intelligence as a way for teams to think, feel and act as one – deepening self-awareness and completely transforming team dynamics.
The programme involves a small amount of creative prep work activity for each participant, followed by an in-person day of lively immersive team challenges, multimedia problem solving, facilitated debriefs and action learning. It's high-energy, fun and completely different from anything your team will have experienced before.
Client feedback on The Quest for Collective Intelligence
Equip your leaders for an age of disruption
In this increasingly uncertain and fast-moving world there is no how-to manual for leaders. Your people can't learn to effectively collaborate, lead or manage complex change from books, podcasts or sitting in a classroom. They need to learn by doing – by being fully immersed in real challenges, experimenting with new tools and behaviours, receiving feedback then learning and adapting from their experience.
The Quest for Collective Intelligence is a completely new approach to leadership and team development and we'd love to share it with you.
"To take the concept of professional development and mix it with games & immersive experiences has been the best professional learning experience I have ever been on"

Kay B, Product Manager
Let's talk!
If you would like to learn more about the Quest for Collective Intelligence or discuss how the programme could benefit your organisation, contact our team at hello@living-systems.com. We look forward to hearing from you.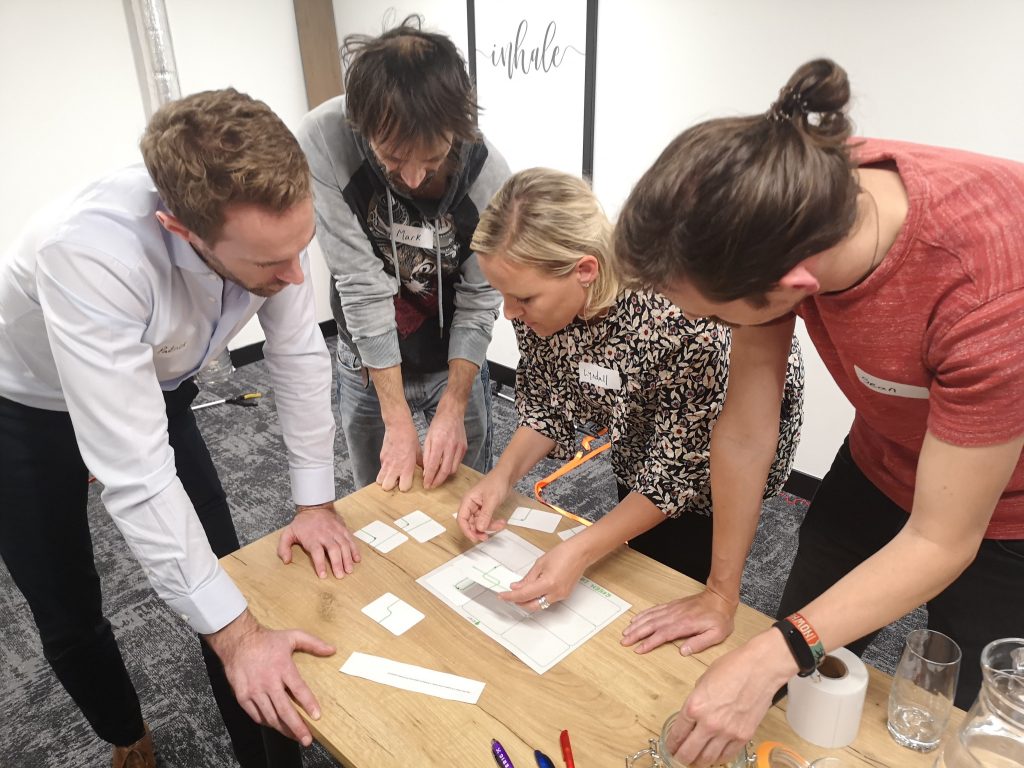 ---
The Quest for Collective Intelligence FAQs
Q: How many people can take part in a Quest For Collective Intelligence event?
A: QCI has been designed for either two teams of eight people or four teams of eight. It can also be customised for teams of different sizes and configurations.
Q: What level of seniority is The Quest For Collective Intelligence suitable for?
A: It is adaptable for all levels, from C-level executive leaders through to junior team members and new joiners.
Q: Do you have the ability to measure the impact of The Quest For Collective Intelligence on our business?
A: Yes – we offer a number of ways to measure impact before and after the programme, including a partnership with Temporall for organisations looking to use organisational analytics to benchmark increases in enterprise connectivity.
Q: Where is The Quest For Collective Intelligence held?
A: We can come to you at your offices or your offsite venue, alternatively we can host you at one of our partner venues.
Q: Could The Quest For Collective Intelligence be incorporated into our existing leadership development curriculum?
A: Absolutely – just get in touch to tell us about your current programmes and we can discuss the various options for building in immersive learning elements with QCI.
Q: Which languages do you offer The Quest For Collective Intelligence in?
A: We are currently running QCI events in English. We hope to expand this soon so if your team does business in other languages do get in touch and let's talk.
---