Executive assessment and coaching
At Living Systems we are able to draw on a broad network of expert coaches and psychologists, across a range of modalities. Because we are certified in many major psychometrics, we are able to tailor our assessment recommendations to each client's specific need.
Broadly, we deploy three different types of psychometric tests in our work with individuals. These are all personality and behavioural assessments, as distinct from aptitude or skill tests. These three types of test are best suited for different situations, summarised below:
1. Type-based/ non-judgemental personality tests
What they look like: these can take two forms. Tests like Insights, MBTI (Myers Briggs) and Social Styles cluster responses into best-fit personality "types", whereas tests like Facet 5 or Firo-B quantify your behavioural bias across a number of different factors. They each have their own respective strengths. What they have in common is they are non-judgemental; in other words, each type has their own relative strengths and potential pitfalls

Situations they are most suited for : the simpler of these tests are well suited as an introduction to psychometrics for people who haven't done them before. The more complex type-based tests (eg Facet 5 and MBTI) can provide a strong foundation for personal coaching, as well as encouraging connection and dialogue in teams
2. Behavioural 360 degree assessments
What they look like: Tools like the Leadership Circle and Human Synergistics LSI score an individual's relative strength against a range of leadership capabilities, ranging from strategic thinking to relational intelligence to task accomplishment. Scores contrast an individual's self-assessment versus the scores provided by others, providing a good view of an individual's self-awareness. In addition, they quantify each person's reactive tendencies, their unconscious response to stress, across three areas: complying, protecting and controlling
Situations they are most suited for: These tools can be an extremely powerful catalyst within a coaching relationship. They are ideally suited to leaders tasked with leading change or in positions of authority. While they can be transformative when used in teams, sharing of individual degree profiles requires greater psychological safety and trust than type-based psychometrics. A large number of teams do use the organisational culture versions of these tests for planning and leading culture change efforts
3. Vertical development assessments
What they look like: Tools like the Global Leadership Profile (GLP), the Leadership Development Profile (LDP) and Joiner's Leadership Agility assessment all assess an individual's vertical development, or their stage of mental complexity. They are rooted in developmental psychology and have become increasingly important to leadership development as we have entered an age of increasing volatility and complexity. Tools are often scored individually and commented on, by trained psychologists

Situations they are most suited for: For senior executives tasked with leading complex organisational change, however, these tests can be invaluable in improving the effectiveness of planning. These tests to be handled with care, since in the wrong hands they can come across as esoteric or provoke defensiveness in individuals . When deploying these tools it is essential that the coach should be at a late stage of development on the model.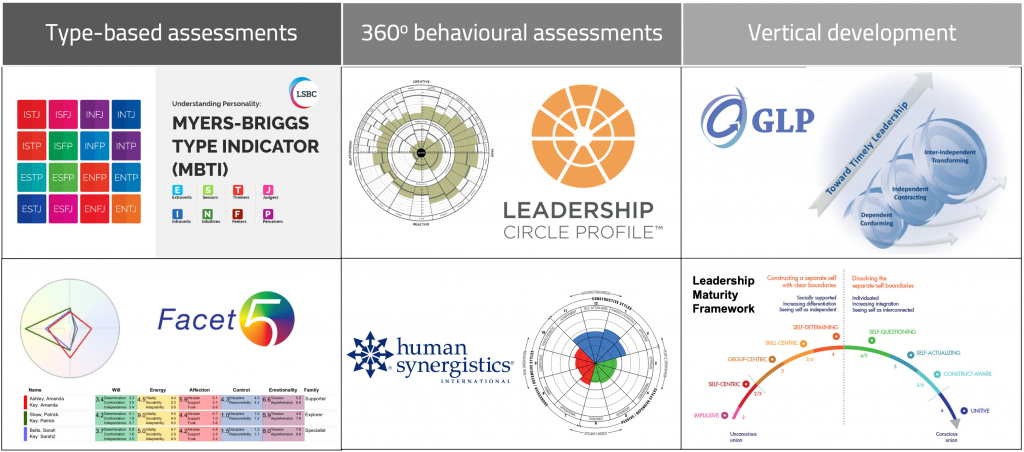 We always deploy psychometrics alongside as part of an agreed programme of work with an executive coach. We can offer a range of coaching approaches, ranging from goal-focused work to deeper work on personal exploration or addressing a reactive tendency. We are also able to provide mentoring in the areas of business strategy and organisational transformation. When choosing a particular coach, we work closely with the client to ensure there is good fit, in terms of relationship and chemistry not just technical capability.
As a networked organisation, Living Systems has access to an unrivalled network of coaches, facilitators and leadership development specialists across the UK and Europe. Most of us have spent the last years developing the field of collective intelligence, working on groundbreaking leadership development projects. Whatever your specific leadership challenge, let's talk about how we can help.