How escape rooms inspired a new approach to experiential learning
The importance of experiential learning in today's fast-changing world
I only came across the term VUCA (Volatility, Uncertainty, Complexity & Ambiguity) a few years ago, when it started getting a lot of attention in the business media and the boardroom. Especially in the recent pandemic, I recognised its usefulness in describing the ability to quickly adapt and respond to changes in the business environment. It's no surprise then, that a massive 81% of employees in a Deloitte study responded that the most important requirement they look for in a 21st century leader is the ability to lead through complexity and ambiguity.
At the core of VUCA Leadership is the principle of learning and adapting collaboratively, in real-time, through change and challenge. This approach, however, is in direct conflict with the traditional, rigid ways in which leaders have been taught. It's simply impossible to learn how to effectively manage complex, emergent change from books, podcasts or sitting in a classroom. Today's leaders need to learn by doing – by being fully immersed in real challenges, experimenting with new tools and behaviours, receiving feedback and then learning and adapting from their experience.
Having spent nearly 30 years working inside big brands and corporate organisations, I have often felt the visceral pain of poorly managed projects, escalating team conflict and ever-shifting goalposts. Something is clearly broken in the way we're expecting teams to work and I find it baffling that there is still so little emphasis placed on hands-on experiential learning in Leadership and Team Development.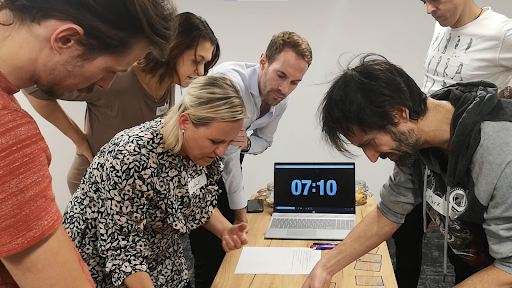 Can corporate L&D learn from the colourful world of immersive experiences?
Alongside my corporate career I have spent many years creating truly immersive team experiences, adventures and interactive games inspired by the escape room and video game industries. There have been so many huge leaps in technology and new ways to have fun over the past couple of decades, yet few of these seem to have made it into the arena of experiential learning in the workplace. I've always been a big fan of escape rooms as a team experience and this got me thinking; could the strengths of escape rooms be leveraged for experiential learning in a way that had not yet been attempted?
To explore this question, this article looks at:
What escape rooms are, their strength and weaknesses
Their limited uses to date, for teams and in education
The skills gaps in Learning & Development that they can address
How we created a unique Immersive Development Experience for teams and leaders based on their principles
What is an "escape room"?
If you've not experienced an "escape room" then the name can be off-putting as you rarely have to "escape" from a locked space and few are actively scary. What they generally are is a series of interconnected puzzles within a themed space of connected rooms that requires a team to complete an ultimate objective, usually in a time limit.
Escape room themes vary as much as films do, from being historically set to futuristic. Basically anything that appeals as an adventure or quest – think Indiana Jones, Oceans 11, Mission Impossible, etc. The puzzles and challenges you have to complete all tie into that theme and objective, adding to the immersion.
The key skills required by most escape rooms are the use of logic and making connections to solve puzzles, communicating and collaborating effectively and keeping calm in a time-pressured situation.
In the last decade there was exponential growth in this new entertainment industry. Unsurprisingly, the pandemic hurt, with a lot of closures but industry gurus Room Escape Artist conclude that in the key US market, 2022 shows a rebounding industry with growth trajectory. Simply put, people still want to get together to have fun and play.
Traditional escape rooms as team building
The best conceived escape rooms cleverly combine a variety of different types of challenges that rely on using different skills to overcome a set of problems. Excellent team communication is always key, so it's no surprise that they have become a popular corporate team building event in recent years.
Crucially, however, they have always been designed with the consumer or leisure market in mind, with a fun group experience being the most important design factor. Because of this, escape rooms can be an incredibly effective team building event. Good ones can leave your team feeling like heroes but bad ones (or bad teams!) can make you feel dumb or frustrated. And as is so often the case in a team environment, loud/dominant "know it all" characters can leave others wanting to escape for a different reason. So sometimes they can have the opposite effect to what is desired from a team building event.
However, I believe there is huge scope for some principles of escape rooms to be applied to learning and development, in a way that offers a whole lot more than a fun day out…
Escape rooms in education
Escape room-style experiences are also starting to be used as an immersive way to deliver educational content, mainly in classrooms. Scott Nicholson has been a huge influence in this sector and you can read more on this subject in his book with Liz Cable, Unlocking the Potential of Puzzle-based Learning. The appeal and benefit to students is clear – learning more about a subject through an interactive game that requires them to work together to solve problems and make their own connections, compared to just listening to a teacher or reading from a textbook or computer.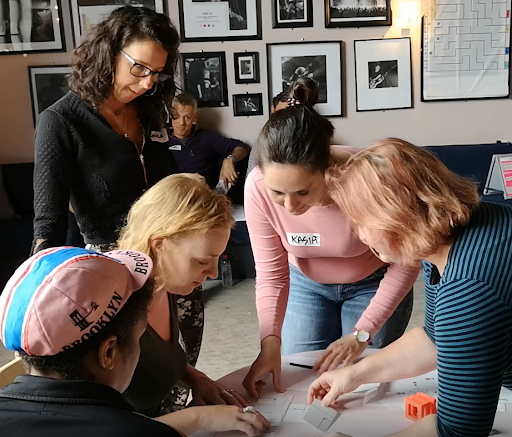 Bridging the gap in experiential learning
When I joined the Living Systems team, it seemed clear that the potential for embedding a new type of experiential learning – inspired by escape rooms – was completely untapped. By building these fun and immersive games into Team and Leadership development programmes, we saw a huge opportunity for equipping leaders for success in an increasingly unpredictable and volatile business environment in a way that simply hadn't been done before.
A huge amount of research with senior business and HR leaders, along with exploration at L&D and escape room conferences, confirmed our suspicions; we could find no examples of anyone designing escape rooms specifically for adult learning in a professional context. As we began to test some ideas with potential clients the feedback was incredibly positive – so we started to build.
Designing our Immersive Development Experience
As someone who has always been drawn to creating innovative and challenging experiences, designing an experiential learning product, inspired by escape rooms, from the ground up was enormous fun. The key question we kept at the heart of the entire design process was: how can we elevate the team experience of an escape room into something that adds significant value to leaders, teams and their business challenges?
Escape rooms already work really well as a fun and immersive team experience, but we needed to make sure it wasn't all just superficial puzzles that rely on one type of skill. We wanted the appeal to be to a broader set of personality types, so it was also important to avoid some of the pitfalls of existing escape rooms, such as dominant characters leaving the team behind or alienated and challenges that only appeal to puzzle nerds. As such, we chose to design a game where the team could only succeed through:
Strong communication and collaboration skills
Effective and agile leadership, particularly of a complex and emergent problem
Giving and receiving honest feedback at critical points through the experience
Implementing the skills and practices of Collective Intelligence
We deliberately wanted to create a VUCA-like experience; one that immerses the players so fully that they are operating as their true selves, not how they think they need to present or act. We needed to create an environment where they can (and do) fail in the way that they normally fail at work – but do this in a way that allows participants to learn and adapt on the go, with feedback from within the team. So while we knew that the game needed to be lots of fun, we also needed it to be a provocative challenge that acted a metaphor for typical business team challenges; one giving plenty of opportunity for pressure and for normal workplace behaviours and responses to emerge.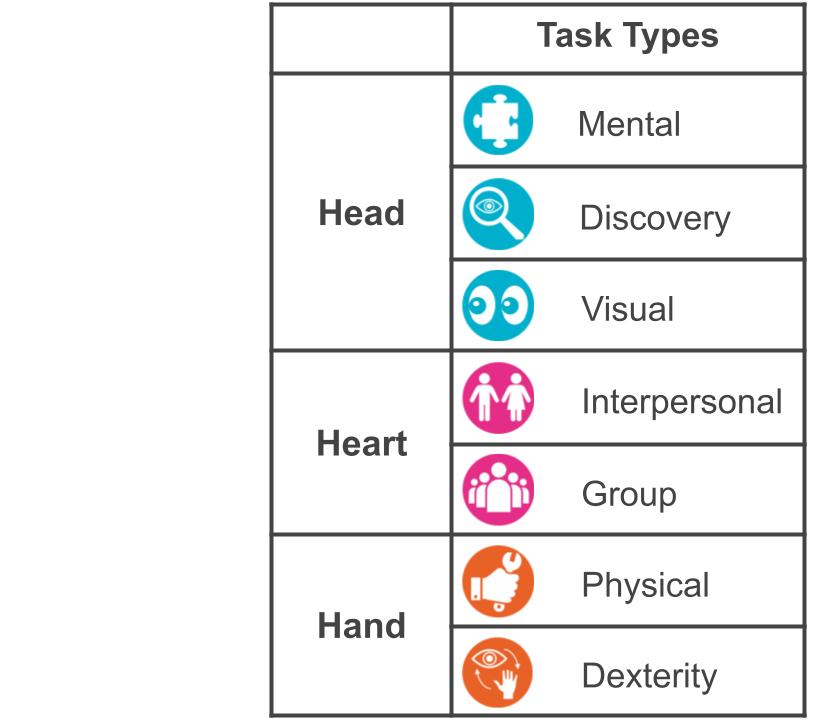 Tasks are varied, spanning what we call the "Head, Heart and Hand of Collective Intelligence", enabling team members to take on tasks that best match their skillsets.
It was critical that the experience would be a psychologically safe space, watched and facilitated by our behavioural psychologists who could intervene and help guide the team to better ways of working. They also help the team discuss and unpack their experience afterwards, encouraging participants to be candid with each other about strengths and reactive tendencies. Finally – but incredibly importantly – we wanted this experience to feel truly inclusive for all members of a team, regardless of their skills, physical ability or accessibility needs.
How our Immersive Development Experience is radically different to traditional escape rooms
Our first escape room-inspired game, part of our new Immersive Development Experience, The Quest For Collective Intelligence, has been described as an "escape room on steroids" and we certainly understand why! Escape rooms rely on the element of surprise, so don't expect us to give too much away here, but here are just some of the reasons our clients have found what we've created to be so valuable to their teams:
It was deliberately designed from the ground-up to help organisations tackle real business challenges.
Although the participants aren't told initially, their success hinges on them selecting a leader who can assign and track the team's progress of the micro tasks, whilst ensuring the macro and emergent objectives are adhered to and well-communicated.
Unlike traditional escape rooms, our game has much more than just a single team objective (e.g. "escape in 60 minutes"), with both objectives and scoring at the team and individual levels, leading to richer feedback in the debrief.
The challenges are many and varied, relying on different problem-solving and cooperation skills.
A key element of success is the team negotiating to ensure that players tackle the types of things that best suit their skill sets and preferences.
Some elements can only be overcome through collaboration but we don't overtly signpost this to the players.
The innovative game structure and mechanics keep the participants engaged as they get to play something that they've never experienced before, even if some have done lots of escape rooms.
Most importantly, the whole experience is facilitated and then debriefed immediately after by one of our behavioural psychologists, to cement learnings.
Want to know more?
You can see what some of those who've experienced it thought here.
We'd love to hear from you! Get in touch with us if you'd like to learn more about it and how it can help your people turbocharge their way to high performance!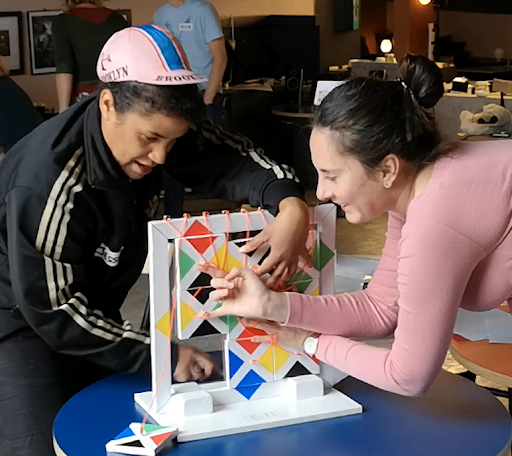 ---