How to leverage human connectivity for business success
For years now, we have accepted that connectivity and strong personal relationships are the glue that holds organisations together. Decades of research has shown the clear benefits of connectivity on employee engagement, low turnover, improved team performance and increased knowledge transfer. Indeed, in the Gallup Q12 survey, a longstanding benchmark of employee engagement, the single question that has the highest correlation with employee engagement is "do you have a close friend at work?"
In the face of this, however, the pandemic and the shift to hybrid working has had a significant impact on organisational connectivity. A recent McKinsey survey of 5,500 employees found that over three quarters of respondents say that they are connecting less frequently with others, have smaller networks and are spending less time on relationship building than before Covid-19. Yet while we are spending less time building relationships, the paradox is that we are spending more time than ever interacting with others; a recent HBR article revealed that people are spending 50% more time on email, IM, phone, and video calls than before the pandemic began. The implication seems clear that, in a remote working environment, we tend to restrict our interactions solely to task accomplishment, investing less time in building social capital and human connection.
So what does this decrease in connectivity mean for organisations?
At any time, a lack of connection is a problem for an organisation but in today's remote working environment, it has become critical. Take employee retention as an example; in a recent survey of over 18,000 employees, McKinsey found nearly two out of five employees are considering leaving their jobs in the next 3–6 months. This on its own presents a significant challenge, since unwanted attrition can lead to productivity and knowledge losses, as well as the fact that the cost of replacing an employee can range from one and a half to two times their annual salary.
The problem does not stop there, however. An increasingly volatile and complex world presents organisations with complex transformation and innovation challenges that span multiple teams and departments. This means that team members need to be capable of not only working within their established silo or function, but also of coming together on an ad-hoc basis with colleagues from other teams and departments to solve adaptive challenges collectively as they arise. So how does the trend towards social disconnection impact an organisation's ability to adapt to disruptive change?
From over two decades of research on networks, Jane Wei-Skillers and the Haas School of Business at the University of California, Berkeley, have found that "the single most important factor behind all successful collaborations is trust-based relationships among participants. Many collaborative efforts ultimately fail to reach their full potential because they lack a strong relational foundation". In an age of disruption, therefore, a strong network of relationships is an essential foundation to building the cross-boundary collaboration that is essential for organisational agility and innovation. Yet, in spite of this, many leaders fail to focus on how to improve the organisation as a whole, through strengthening the web of relationships that tie it together.
Benchmarking connectivity in the workplace
At Living Systems we believe that connectivity is the bedrock of a high performance culture of collaboration. We have spent the last five years working with our clients to develop the connectedness and agility needed to manage complex change. Within the last year we have also developed a strategic partnership with Temporall, enabling us to measure connectivity and highlight opportunities for improvement. This year, with the release of our first Immersive Development Experience (IDE) we are now, for the first time, able to offer a comprehensive programme to accelerate change and build business agility by turbocharging connection and strengthening relationships across the organisation.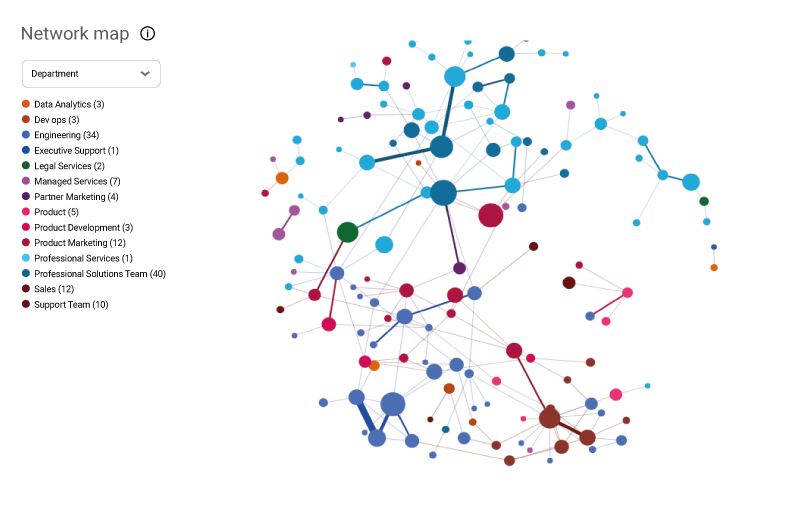 Living Systems: Our approach to building organisational connectivity
So how does our approach to building organisational connectivity work? Our solution is designed to be implemented by any large group or ecosystem facing an adaptive challenge. It could be all of the members of a business transformation programme, a whole function looking to shift its culture, or a leadership group looking to address a specific issue, such as employee engagement. The process itself consists of four separate steps:
1. Measure and visualise the connectivity baseline
The first step is to use Temporall's 'Workbench' product to visualise and establish a benchmark for organisational connectivity and relationship health. The Workbench extracts data at a group level from Slack, MS Teams and Google Workspace (ie names are anonymised) and provides leadership teams with a 360o view of the quality of relationships across their organisations. At this stage of the process, we work with the leadership team to refine programme design by identifying specific networks for improvement, analysing sentiment and identifying key influencers within the business. We use this information to split the larger group into smaller cohorts of up to 32 people, who will attend an Immersive Development Experience day together. Within each cohort of 32, we then form people into a series of small learning groups, designed to maximise people's exposure to other critical areas of the business.
2. Develop a culture of open feedback and peer learning
Next, participants attend an Immersive Development Experience (IDE), an event that has been designed from the bottom-up to develop the self-awareness, open feedback culture and high-performance collaboration that is critical to business performance and organisational agility today. Over a day and half, participants work in small learning teams to solve a variety of complex challenges that test a diverse range of collaboration and leadership skills. The program is framed as a fun and rewarding personal development journey, with regular sessions for peers to provide both appreciative and redirective feedback to each other. By "de-risking" learning and making it fun, we help people develop a passion for personal development, planting the seeds for an open culture of peer feedback and learning. Or, as one participant said to us recently: "you've done what I thought would never be possible: you've made me passionate about giving and receiving feedback!"
3. Develop shared vision and commit to action to drive meaningful change
After running the IDE on the first day, we then devote the second day to working on the group's business problem. The unanimous feedback we have received from running Immersive Development Experiences is that it totally transforms the quality of connection and conversation across a group. This increased connectivity and openness allows for radically different conversation, enabling groups to step into the shoes of other departments, surface and address the tricky "elephants in the room", transforms the day-to-day culture and makes transformation work. Our facilitators are experts at leveraging this step-change in relationship quality to build shared vision, engender shared purpose and build genuine commitment around plans that make change stick.
4. Create impact networks, quantify improvement in connectivity, and sustain progress
Once the event has finished, the diverse teams go back to their day-to-day work (be it a change programme or their functional/departmental roles). What is different now, however, is that each individual has developed a network of close working relationships with individuals from across other functions and departments. Perhaps even more importantly, individuals now have a lived experience of the importance of relationship-building to cross-boundary collaboration. Working teams are now able to share and thereby leverage their collective network to address the tricky cross-functional challenges that are bound to emerge, as they seek to undertake their work on business transformation.
After an agreed period of time, we then remeasure organisational connectivity to prove the uplift on relationship quality and conversational sentiment. Where this program forms part of a major change programme, we then agree an allotted period of time before then bringing the whole system back together, to review progress and roadblocks and adapt accordingly.
The outcomes of our organisational connectivity work
We have worked with a variety of clients to leverage improved connectivity to accelerate a range of business transformation projects, including business model transformation, culture change, employee engagement and strategy execution. In each case, by integrating a focus on connectivity within the process of change management, we have managed to achieve improved business results and accelerated the process of change. For further details on specific client results, please see our range of case studies in our resources section on the Living Systems website.
In conclusion
Amid increasing volatility and complexity, organisational connectivity is more critical than ever to organisational change and sustained business success. When leaders fail to pay sufficient attention to connectivity and relationship quality across their organisation, resistance invariably emerges and transformation can grind to a halt. When leadership teams do get the balance right between a focus on the business and technical elements of change with relationship quality and connectivity, however, they accelerate the process of transformation, while also driving employee engagement and building organisational resilience.
We'd love to hear from you! Get in touch with us if you'd like to learn more about human connectivity in the workplace and how it can help your people turbocharge their way to high performance.